Congratulations to our anglers of the year:
Mike and Danny Rockford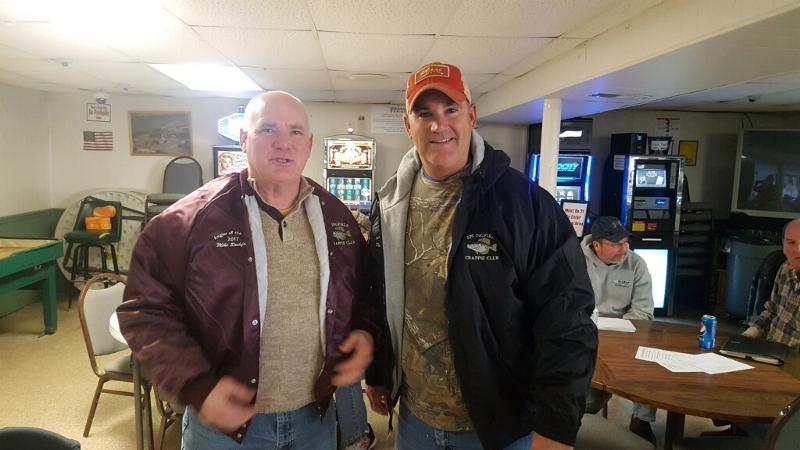 Springfield Crappie Club
Spring 2018 Meeting Notice
Sunday, January 28, 2018
The Springfield Crappie Club will hold its 2018 Spring Meeting on
Sunday, January 28, 2018

. The meeting will take place at the Knights of Columbus Council #4179, beginning at

1:00 P.M.
This K of C is located on Lake Springfield, next door to Lake Springfield Marina, just west of I-55 exit 88.
The E-Board met on December 14th, 2017 to pick the dates for the Spring tournaments and set the agenda. The awards for Angler of the Year will be presented. We will be voting on a by-law change that was proposed at the Fall meeting during the "Old Business" portion of the Spring meeting.
The proposal states "Members will vote on the lakes for all three club tournaments each spring and fall" Three-Fourths majority is needed to pass. In a nutshell, this would eliminate the rule directing the location of the two day tournaments alternating between Lake Shelbyville and Mark Twain Lake. This proposal would not affect the location of the Classic being held at Lake Springfield. See the Fall meeting minutes posted on our website for more information.
NOTICE: President Danny Runkel submitted his resignation shortly after the Taylorville tournament. The e-board accepted his resignation and Vice President Rick Montooth then assumed the duties of club president. After much thought and discussion, the entire E-Board recently submitted their written resignations and will officially resign at the spring meeting following the the conclusion of "Old Business". The "New Business" portion of the meeting will begin with nominations and a vote for a new president, vice-president, treasurer, secretary and tournament director.
After the election of new officers, members will be voting on the lakes for the spring tournaments. The outcome of the vote for the by-law change will play into the lake we will be fishing on our two day tournament.
There will be a fish fry following the meeting. Please bring a covered dish.
Save this Date.
Jim Tintori
SCC Secretary